Phonak has led the way when it comes to innovation, producing the first portable audio devices in 1950 and the world's first BTE (behind-the-ear) hearing aid (Phonette) in 1969. Ten years later, Phonak introduced the audio input that established the foundation for FM devices and ongoing innovations included PICS, the first digitally programmed hearing aid with an analogue processor, the AudioZoom multi-microphone concept, and MicroLink, first tiny FM receiver.
Schedule a Hearing Assessment
Phonak Innovations for Better Hearing
Phonak has continued to push the envelope to develop bionic systems with the latest in digital technology for natural, effortless hearing with innovations like SmartLink (Bluetooth integration technology), water-resistant housings, Lyric extended wear hearing aids, and binaural VoiceStream Technology led to better sound distinction in up to 45% of challenging noise environments.
Other innovations include integrated tinnitus management, advanced recharging capabilities, and improved streaming and connectivity. Smartphone connectivity provides seamless streaming from Android, iPhone, and a wide range of Bluetooth compatible digital devices with hi-fi stereo quality sound.
A double tap on pinna, thanks to the new Tap Control feature, makes connectivity virtually effortless. Using the myPhonak app along with connectivity capabilities allows a hearing instrument specialist to provide programming adjustment to their device users from a remote location.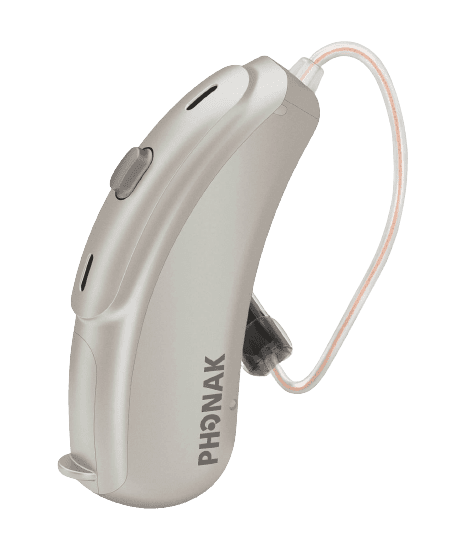 Receive a Valuation Quote on Your Existing Hearing Aids

Available on all manufacturers and model (includes over-the-counter, PSAP's or prescription devices)
If you're exploring new hearing technology, and you're an existing hearing aid wearer, then you may benefit from receiving a valuation quote on your existing technology.
Based on the manufacturer, model, age and condition - we'll calculate a generous valuation on your devices that you could utilize as part of a trade-in towards new technology.
Simply complete the form, and we'll contact you with the valuation quote.
"*" indicates required fields
Patient Focused Hearing Care from Duncan Hearing
Phonak hearing aids are among the advanced hearing technology solutions available from our professional audiologists and Duncan Hearing Healthcare to help address your hearing care needs, but you are still the primary focus of the personalized care we provide.
Our use of comprehensive hearing assessments to accurately identify your hearing challenges, guidance in selecting the hearing instruments best suited to address your specific type and severity of hearing loss, your budget and personal preferences, and our dedication to providing ongoing support are all part of providing personalized care.
We take things further with technical support, device maintenance, and hearing aid repair of devices from manufacturers like Oticon, ReSound, Rexton, Phonak, and more, making it possible for us to deliver better hearing and a better quality of life to those with hearing loss all across Massachusetts.
If you, or a loved one, has a hearing challenge or you need some help from one of our hearing instrument specialists, contact the Fall River, Centerville, or Dartmouth location nearest you using the adjacent form.
Would you like to speak to one of our hearing care professionals to ask your questions, share your concerns, or share your challenges?
Then simply complete this form and we'll call you back shortly for a friendly no-obligation conversation.
You Might Also Be Interested In