As part of the umbrella GN Group, the focus of ReSound hearing aids revolves around helping people rediscover their hearing in order to live rich, active, and fulfilling lives, allowing ReSound to be able to meet the needs of individuals with hearing loss in 80 countries worldwide.
In cooperation with GN Groups, ReSound has played a key role in the research and development of medical, professional, and consumer audio solutions, which has led to the fabrication and distribution of med-tech, hearables, and intelligent audio products.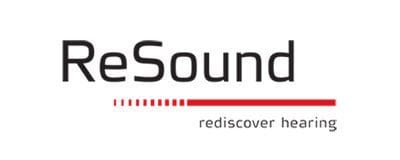 Schedule a Hearing Assessment
Innovative Features and Performance Available from ReSound
Innovations like WDRC (Wide Dynamic Range Compression), capable of adjusting sound input intensities was a major step in sound processing developed by ReSound, while DFS (Digital Feedback Suppression) helped resolve issues related to howling and distortion.
The first open-standard digital chip for improved programming flexibility was produced by ReSound, and the ReSound AIR open-fit design helped to limit the discomfort of a plugged ear canal for a more natural sound.
Connectivity options for hearing aids, using 2.4 GHz technology to link with iPhone and Android devices were a development of ReSound. Using connectivity technology with Remote Assist allows a hearing instrument specialist to receive programming adjustment requests from patients and then send the new settings, which are uploaded to the device.
Receive a Valuation Quote on Your Existing Hearing Aids

Available on all manufacturers and model (includes over-the-counter, PSAP's or prescription devices)
If you're exploring new hearing technology, and you're an existing hearing aid wearer, then you may benefit from receiving a valuation quote on your existing technology.
Based on the manufacturer, model, age and condition - we'll calculate a generous valuation on your devices that you could utilize as part of a trade-in towards new technology.
Simply complete the form, and we'll contact you with the valuation quote.
"*" indicates required fields
Patient Focused Hearing Care from Duncan Hearing
ReSound hearing aids are among the advanced hearing technology solutions available from our professional audiologists and Duncan Hearing Healthcare to help address your hearing care needs, but you are still the primary focus of the personalized care we provide.
Our use of comprehensive hearing assessments to accurately identify your hearing challenges, guidance in selecting the hearing instruments best suited to address your specific type and severity of hearing loss, your budget and personal preferences, and our dedication to providing ongoing support are all part of providing personalized care.
We take things further with technical support, device maintenance, and hearing aid repair of devices from manufacturers like Sivantos, ReSound, Rexton, Phonak, and more, making it possible for us to deliver better hearing and a better quality of life to those with hearing loss all across Massachusetts.
If you, or a loved one, has a hearing challenge or you need some help from one of our hearing instrument specialists, contact the Fall River, Hyannis, or Dartmouth location nearest you using the adjacent form.
Would you like to speak to one of our hearing care professionals to ask your questions, share your concerns, or share your challenges?
Then simply complete this form and we'll call you back shortly for a friendly no-obligation conversation.
You Might Also Be Interested In