Home » Meet The Team » Erin MacMullen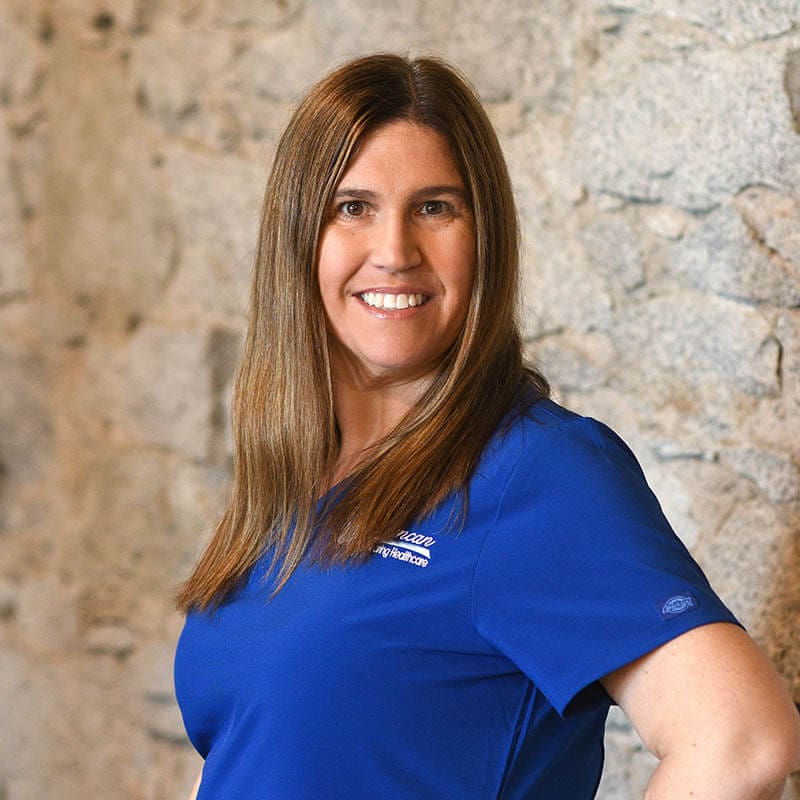 Since 2001, Erin MacMullen has provided patient care in the state of Massachusetts as a clinical and dispensing audiologist. Her family roots are from Swansea, MA but she grew up in Berkley, MA and attended Coyle and Cassidy high school where she met her husband of 22 years. Her Bachelor of Arts degree in Communication Disorders came from the University of Massachusetts, Amherst, where she also earned her Master of Science degree in Audiology in 2001. She holds her Certificate of Clinical Competence in Audiology (CCC-A) from the American Speech Language Hearing Association (ASHA).
Following graduation, Erin has worked in several settings, including private practice, ENT (ear nose and throat) facilities, nursing homes, assisted living residences, and as a consultant for public school systems in the area. Her diverse experiences provide Erin with a special combination of skills that include the ability to diagnose and treat hearing impairments among a large range of individuals, from pediatric through geriatric populations.
A typical day for Erin at Duncan Hearing consists of patient appointments which include comprehensive diagnostic hearing tests, counseling, educating, fitting amplification, Veterans testing, hearing aid maintenance and care, and supporting patients and their families on the road to a lifetime of better hearing.
Her personal success story is when a patient came to her from another provider who had been struggling for a few years with her amplification.
After a little investigating it was clear the aids had been fit to the opposite ears which in some cases would not have been a huge problem but in her case her hearing loss was drastically different for each ear. She reprogrammed the hearing aids to the correct ears and for the first time the patient was able to hear.
The patient was so happy and relieved that she could hear again and that Erin took the time to investigate the patient's complaints and not brush her off like the previous provider had done.
Erin lives in the South shore with her husband, two daughters, and their four cats. She is her daughters biggest supporter and devotes her free time to their competitive dance and all-star cheer passions.
If you could have dinner with one person (dead or alive) who would it be?
My Dad I miss him every day!
What is your favorite sports team?
My daughters Elite Dance Team and All-Star Cheer Teams
What is your favorite food?
Pizza, I could eat it every day!
If you could travel anywhere in the world, where would you go?
China
What's your all-time favorite TV show/series?
Dance Mom's
Book a Hearing
Assessment
There is no better time than today to start down the path to better hearing with Duncan Hearing Healthcare by using our form to book a hearing assessment.