Siemens began as a manufacturer of telegraphic instruments in 1847, but changed their focus to inventing instruments to address hearing challenges in 1877 by developing an amplified telephone receiver. Their first BTE (behind-the-ear) instrument was released in 1959 and their first ITE (in-the-ear) hearing aid in 1966.
Siemens became Sivantos in 2015, producing Signia hearing aids using Siemens' technology, while continuing to release Siemens hearing aids. The Sivantos Group merged with Widex to create WS Audiology in 2019.
Schedule a Hearing Assessment
Advanced Hearing Solutions From Siemens
The leading innovation of Siemens is their binax platform. The secret to the performance quality of binax is its e2e wireless technology, which simulates binaural hearing using an eight microphone network (four per hearing aid) to wirelessly share and balance audio data.
Binax also comes with Narrow Directionality, Spatial Speech Focus, eWindScreen binaural, and High Definition Sound Resolution to clarify your sound experience. Two independent studies of binax technology, conducted by the University of Northern Colorado and the Hearing Center of the University of Oldenburg, showed that the hearing instruments provided wearers an advantage over those with normal hearing in a noisy environment.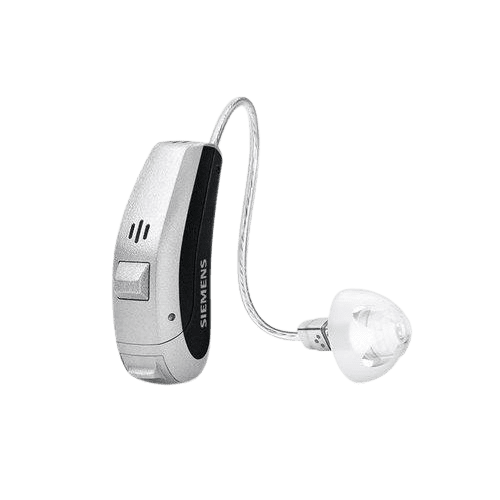 Receive a Valuation Quote on Your Existing Hearing Aids

Available on all manufacturers and model (includes over-the-counter, PSAP's or prescription devices)
If you're exploring new hearing technology, and you're an existing hearing aid wearer, then you may benefit from receiving a valuation quote on your existing technology.
Based on the manufacturer, model, age and condition - we'll calculate a generous valuation on your devices that you could utilize as part of a trade-in towards new technology.
Simply complete the form, and we'll contact you with the valuation quote.
"*" indicates required fields
Patient Focused Hearing Aid Repair at Duncan Hearing
Siemens provides hearing instruments that represent an advanced hearing technology solution for those who need the extra help of a hearing aid. Duncan Hearing Healthcare supports individuals who use Siemens hearing aids by providing troubleshooting, maintenance, and repair service, along with other brand name instruments.
Our ongoing personalized care is part of what separates our professional audiology clinic from purchasing your instrument from a hearing aid dispenser, online, or over-the-counter in a big box store. For the support, encouragement, and personalized care you need, turn to Massachusetts' hearing care leader for better hearing and an improved quality of life.
If you, or a loved one, has a hearing challenge or you need some help from one of our hearing instrument specialists, contact your local clinic in Fall River, Hyannis, or Dartmouth using the adjacent form.
Would you like to speak to one of our hearing care professionals to ask your questions, share your concerns, or share your challenges?
Then simply complete this form and we'll call you back shortly for a friendly no-obligation conversation.
You Might Also Be Interested In