The Hearing Care Experts for Fall River, Hyannis & Dartmouth
Trusted by Thousands of Patients, Physicians, and Organizations Across Massachusetts
The Lessons Learned From Covid-19 And Our Continued Promise To You, Both Now And Forever – Click Here To Read

How We Have Continued to Keep Patients Safe Through the Pandemic
Number of Disinfected Rooms
Number of Face Masks Used
Gallons of Hand Sanitizer Used
If you believe that you may be experiencing signs of a hearing loss or you're concerned about a loved one's hearing, then it can be a confusing time, especially with so much conflicting and confusing information on what you should do next and who you should trust.
That's why, at Duncan Hearing Healthcare, our mission since we opened our doors in 2003 has been to help educate and support Massachusetts on healthy hearing.
It is why thousands of patients have turned to us as their hearing care experts, multiple local physicians continue to refer patients to us, and many local organizations trust us to care for their staff's hearing.
With a team of 10 audiologists and hearing care professionals spread throughout three locations in Fall River, Hyannis, and Dartmouth, if you're looking for hearing care experts that you can trust, then you're in the right place.
"Being around a medical professional can be intimidating for someone with a hearing loss because you want to be able to hear and understand everything that is being said, but Dr. Duncan was patient, confident, and reassuring in the way she approached her work… The staff at Duncan Hearing Healthcare is also professional, friendly, and accommodating. I have rediscovered sounds that I thought were gone for good – birds, crickets, the wind… Certain sounds go away, and you don't realize that they have. I highly recommend Dr. Nancy Duncan and the fabulous crew at Duncan Hearing Healthcare.  They changed my life."
Barry Richard, Host of The Barry Richard Show
Hearing Assessments
We often compare hearing loss to a broken tail light.
As although the driver often isn't aware of it and they can comfortably continue to drive without fixing it, it's the people around them that it causes frustration and challenges for.
With a recent national health survey reporting that 15% of the U.S. population report trouble hearing, hearing loss is much more common than most people realize.
If you're concerned about your hearing or a loved one's, the first step is to schedule a hearing assessment. They're quick, non-invasive, and you'll receive the results upon completion.
Hearing Aid Technology
For many years, there has been a stigma around hearing aids that has prevented millions of people from making the right decision for their hearing health and lifestyle.
But over the past decade, we have watched that change as hearing aid technology has drastically progressed. The latest hearing aids are incredibly small and, in some cases, even completely invisible. Patients often tell us that their friends, family, or colleagues haven't even noticed their hearing aids months after wearing them.
With rechargeability, connectivity to your smartphone, and the ability to stream phone calls, music, and your television directly to your hearing aids, the latest technology is enhancing your life and not just enhancing your hearing.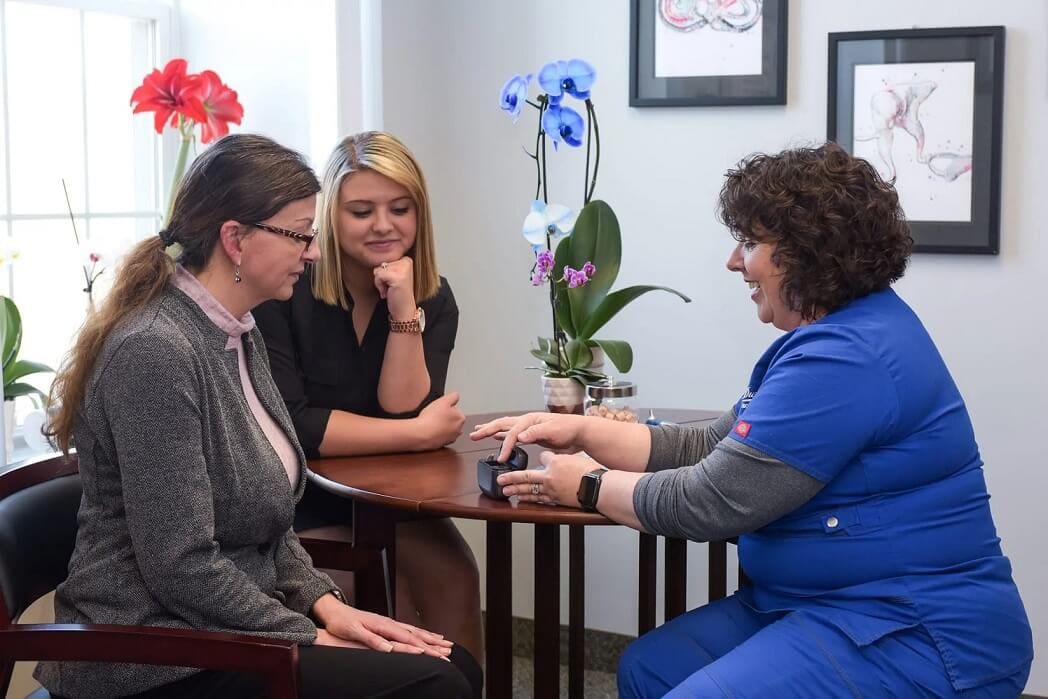 Tinnitus Assessments
Patients have described it as a hissing, clicking, ringing, or buzzing – but if you hear an unexplained sound in one or both of your ears on a regular basis, then it may be a sign of tinnitus.
The U.S. Centers for Disease Control estimates that nearly 15% of us experience some form of tinnitus, making it one of the most common hearing related challenges across North America.
If you're concerned that you may be one of the 50 million people that have tinnitus, then we encourage you to have a tinnitus assessment. It's quick, non-invasive, and our professionals will help you to minimize the discomfort it causes.
Would you like to speak to one of our hearing care professionals to ask your questions, share your concerns, or share your challenges?
Then simply complete this form and we'll call you back shortly for a friendly no-obligation conversation.
Some patients are wearing hearing devices with custom earmolds. These earmolds can be connected to hearing aids with traditional tubing or attached to the end of a receiver wire. Either style needs to be replaced in time. Just like hearing devices, earmolds do not...
read more