Our team knows how vital our local businesses are to creating a strong local community. It is so important to keep these small hometown businesses going and to let residents know what's available so they can support them and help them grow.
Our "Love Local" post this month is about The Back Eddy Restaurant – a seafood restaurant that sits right on the waterfront of the Westport River.
I might be a little biased, but the Back Eddy is special to me because I am actually an employee. I work in the kitchen, and I started when I was 14, so I've been working there for going on 16 years now.
The restaurant has a great atmosphere and awesome staff, and it's in a beautiful location.
They also have an outdoor bar, and on most weekend nights at the end of the dock, they have some food service. Stay to see the sunset.
The Seafood Is So Fresh
They serve yummy local seafood, so if you like seafood, this is the perfect place for you. Try ½ dozen local oysters at the raw bar, or jump straight into a clam chowder as a starter followed by classic bacon-wrapped New Bedford sea scallops or coriander crusted North Atlantic salmon.
The Boat Show — grilled swordfish, garlicky mashed potatoes, grilled asparagus, and lemon-parsley butter — is my personal favorite dish.
If you're not a fan of seafood, don't worry – they also offer BBQ pork, 14oz. ribeye, and felafel mezza, and they have a kids' menu.
You can order takeout online too.
For large parties, you can reserve a room, part of the deck, or the whole dock or restaurant.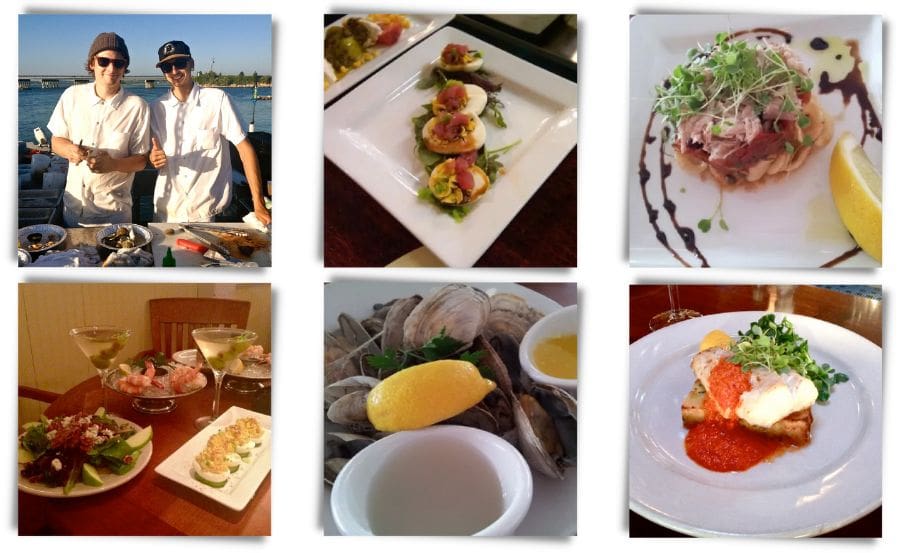 More to Love about the Back Eddy
They host an annual Polar Bear Plunge every New Year's Day, plus an annual Striped bass tournament on Columbus Day weekend.
Come Visit!
1 Bridge Road, Westport, MA 02791* | thebackeddy@aol.com | Tel: 508-636-6500
*Please note that their address is 1 Bridge Rd., but when using a GPS, the address is: 4 Cherry & Webb Ln.​, Westport, MA 02791.
Reservations are required for parties of 6 or more.
The hours are seasonal.
Columbus Day to Dec 31
Thurs – Fri:    5:00 p.m. to 9:00 p.m.
Sat:                  Noon to 9:00 p.m.
Sun:                11:00 a.m. – 3:00 p.m. (Brunch!)
Come to the Back Eddy for a yummy dinner and the best sunset in town.
Do you run a local business? Is there a local business that you think we should write about or try next? Call us so we can give them a friendly shoutout. Fall River: 508-674-3334 | Hyannis: 508-862-0255 | Dartmouth: 508-910-2221