As you're reading this article, I can only assume that you have purchased a Sony CREC10 over-the-counter hearing aid and it's not performing as you had originally hoped.
First of all, I would like to congratulate you.
One of the reasons why many audiologists are in support of over-the-counter hearing aids is because it has more people, like yourself, recognizing and choosing to address a hearing challenge that otherwise may not have chosen to visit an audiologist and explore traditional hearing aids.
You made a great decision to start exploring how technology can help you to hear better, and an over-the-counter hearing aid like the Sony CRE10 should give you some understanding of what could be possible from hearing technology and what some of the limitations of self-fitting devices may be.
In this article, I'm going to share four tips to help you to improve the performance of your Sony CRE10 OTC hearing aids and an invitation to access our professional help if you require further support.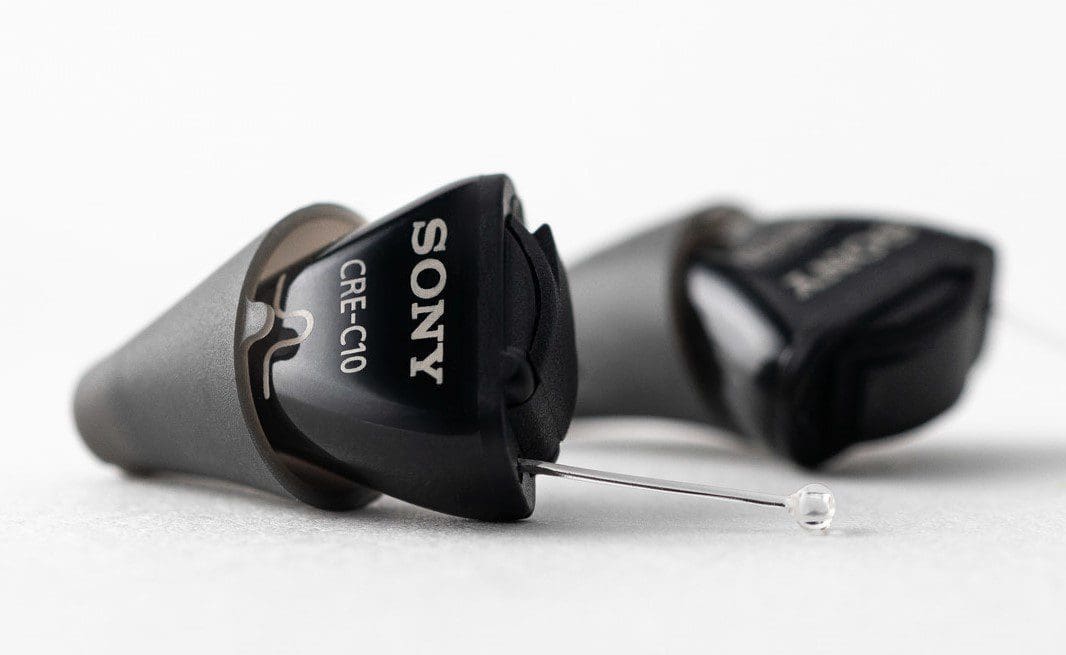 Tip #1 – The Importance of the Fitting
Although prescription hearing aids often take something called "Custom Earmolds" that ensure the hearing aid perfectly fits into your ear, OTC devices come with some different tip options that are interchangeable.
If you have fitted your device into your ear with the wrong tip, then it may be falling out or may be uncomfortable if it's too big. Check your box to find your different tip options and look to try the several different sizes to find the most comfortable fit.
Your OTC device should fit securely in your ear and not be at risk of falling out and should not feel uncomfortable.
Tip #2 – Understand The "Listening Bubble"
Over-the-counter devices have a little microphone, which is how sound is picked up and then amplified into your ears.
The quality and the volume of the sound is heavily determined by something referred to as a "listening bubble," which is essentially the distance or radius that the microphone is designed to amplify sound within.
For example, if you are in a quiet room speaking to a loved one or in a board meeting with no background noise, then your "listening bubble" will make it much more comfortable to hear the conversation. However, if you're at a party or in a situation with background noise, then you're going to find that the microphone picks up and amplifies all the noise.
This is one of the biggest differences between over-the-counter and prescription hearing aids. OTC devices work as amplifiers, and prescription technology ensures that your devices only pick up the tones/sounds that your natural hearing would otherwise miss.
Tip #3 – Minimize Background Noise
This may sound obvious, but it's certainly worth mentioning.
Do everything in your power to remove background noise when using your Sony CREC10 devices. For example, turn off the television if having a conversation, or try to position yourself in a room where there is minimal background noise.
Any additional noise your microphone picks up will be amplified, and most of the noises our brains are used to hearing are not processed, so it will be a very odd experience.
#4 – Have an Accurate Hearing Test
This may be the most important tip, as unless you have had your hearing tested, then it's going to be very difficult for your OTC device to deliver on its objectives using the built-in standard settings.
This is why we often compare over-the-counter hearing aids to "readers," as they deliver a one-size amplification tool for many and are not based on a prescription for accuracy.
My encouragement is to visit an audiologist to have your hearing professionally tested. You may discover that you can amend some settings for a much better performance, or you may discover that your hearing challenges are a result of something other than a traditional hearing loss.
Do You Need Professional Help?
If you have tried the above tips and you're still unsatisfied with the performance of your technology, then you may benefit from coming to visit my team and me for a performance evaluation.
How does a Performance Evaluation work?
You'll be able to schedule a 30-minute appointment at one of our four locations across Fall River, Centerville, Dartmouth, and Falmouth.
A hearing care professional will be able to review the settings, the fit, and the quality of your OTC device to pinpoint ways to enhance performance.
If this doesn't achieve the performance enhancements that you're looking for, then a professional hearing evaluation may be beneficial as well as a comparison test to prescription technology so that you can truly understand the differences.
A performance evaluation is fairly priced at $75.00 (including an additional billing to your insurance if a professional hearing evaluation is required).
To schedule your Performance Evaluation, contact your local office or request a callback by clicking here.