Being a part of this community is something we are proud to be. Duncan Hearing was started to help all our neighbors achieve healthy communication through improved hearing; that's our contribution to the area. 
However, so many more of our peers contribute just as much, and that's why we started this editorial; to shed light on everyone who makes eastern Massachusetts so special. 
I feel supporting our community by shopping locally and supporting local people is vital. This month we turn our attention to the Wild Honey Cafe.
I found them two years ago when I moved to Dartmouth, and they were located within walking distance of my house. Since then, they've moved to Westport, and we still take the drive to enjoy their food and drinks!
Check Them Out for This
They are a cute coffee shop with great pastry, breakfast, and lunch sandwiches. The coffee is excellent and extremely convenient because you can order online and then swing by and grab it.
The service is prompt and very friendly, exactly what you would expect from an east coast cafe. Here are a few of our favorite selections if you've never been. Everyone in the office has their own preferences, but I think we can all agree on these;
French Onion Panini — There's nothing like a comforting bowl of french onion soup but the geniuses in the WHC kitchen have transplanted that feeling and all the flavors into a delicious panini. It's stuffed full of roast beef, cheddar, spinach, tomato, and their special french onion aioli. If you've never been to WHC, then start with this.
Thanksgiving Panini — This is exactly what it sounds like, only better. Piled high with juicy roast turkey, homemade stuffing, and cranberry aioli, you don't have to wait for November to be thankful for this gem of a sandwich.
Savory French Toast Panini — If it's breakfast you're after and tired of the usual "Grand Slam" the other places have, you've come to the right place. The secret is in the brioche french toast, which is perfect for a Sunday morning and irresistible every other day. Have it stuffed with eggs, bacon, and cheddar cheese.
The Coffee — You can't be a cafe without delicious coffee, and WHC doesn't disappoint. I have my usual coffee order, as we all do, which is great, but I can't resist the Golden Bee Latte every now and then. Infused with turmeric, ginger, black pepper, clove, honey, sweet cinnamon tea, and steamed milk, your taste buds will thank you.  
The Pastries — No meal is complete without a little bite from the daily bakery section. The pastry case is full of surprises and none of which are disappointing. I don't want to tell you about the things I've had because you never know when they'll make a return. You have to experience this yourself, and then we can swap pastry stories the next time you're in the office. 
They also have delicious salads and bowls for anyone who wants something on the lighter side. Everything is fresh, and they utilize seasonal vegetables and fruits as much as possible.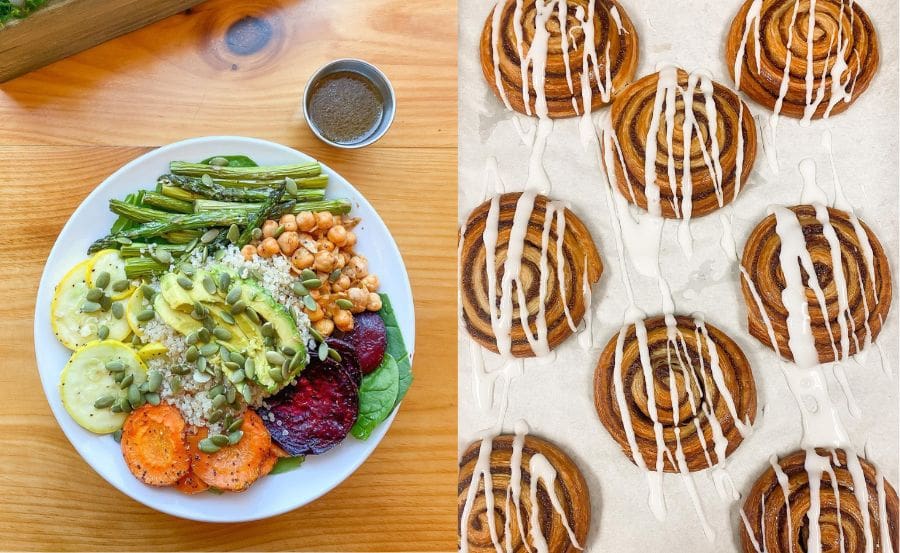 Local Knowledge
I've been there a few times now, so let me offer you a couple of insider tips.
If you are getting it to go, order online and swing in to grab it. It's convenient, and there is no waiting.
If you have the time, enjoy your coffee and food on their cute back patio. The ambiance is relaxing and bright, you might as well take it all in before it's covered in snow.
Check out their seasonal specials; they always have exciting coffee and latte suggestions. This is above and beyond the ever-changing pastry case, which you should also keep your eye on.
Where Are They and How to Order
Since moving, they are a little more "out there," but now they've found a spot that is closer to nature which helps their chefs get the freshest product, and it helps us to relax more by getting away from it all for a few hours. 
You can find them in Westport, just off the Main Highway. It's worth the drive, and we always end up grabbing a few pastries for home (although they don't always make it the whole way). 
You can order online through their easy-to-use system, which they monitor very closely. The service is impeccable and is one of the many reasons they are such valued members of our local community.